Art Kits 'To Go' for Magnifying Abilities!
---
Magnifying Abilities / Classes -
Winter/Spring 2021
This at home kit is for those registered with the Magnifying Abilities Program!
These art kits are so much fun; it's like having your very own private art teacher! Order this kit online and it will be shipped directly to you! The art kit contains an easy to follow lesson plan, a link to an online instructional video taught by an art teacher that is available at any time and art materials needed to create one fridge-worthy masterpiece!
A computer will be needed to access the online instructional video.

Create a Spring Garden!  $17 (includes shipping)
Follow easy step-by-step instructions as you create a mixed media collage with a garden theme on a real canvas board.
---
Glow-In-The-Dark Cityscape   $17 (includes shipping)
This mixed media masterpiece is extra special! It glows-in-the-dark. How cool is that?!?!?!
---
Bunny Sunset    $17 (includes shipping)
Have you ever wished you were better at drawing? During this guided drawing class, we'll teach you a simple drawing technique that will help you create an adorable drawing of a trio of bunnies, cottony tails and all.
---
Create a Snowglobe       $17 (includes shipping)
Snow Globes are one of our most popular projects, and now they're available as a Do-At-Home Art Kit!  Artists will use several different types of clay along with glitter, beads, and more as you learn how to make your very own snow globe.
---
How to Draw a Koala      $17 (includes shipping)
A how-to-draw activity is a great boredom buster!  With this kit, participants will learn how to draw an adorable koala by using a simple step-by-step process.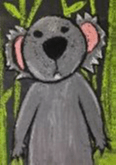 ---
Clay Fairy House          $17 (includes shipping)
Get creative with this whimsical, colorful art kit!  Participants will construct a magical place for their fairy friends to live out of Model Magic® clay.
---